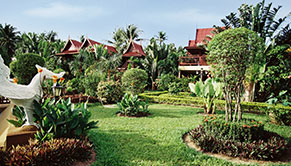 Welcome To TPS
TPS Asset is a family owned and run company, specialized in architecture, interior and landscape designs for the company's own residential rental.
The unique combination in modern classical, as well traditional creations does create a warm and cozy ambience. After having established several properties on the island of Koh Samui, such as the first White House 1983 on pristine Chaweng Beach, this quaint Boutique Hotel, then the first of its kind on the island, consisted of only 10 rooms, followed by The Village 1986 and extension to Princess Village 1990. In 1988 Chengmon Village opened its doors and in 1994 was then rebuild and renamed as Hotel The White House. The master piece was then set in 2004 with the opening of the exclusive 5* property named Buriraya Resort & Spa, now under Renaissance Resort & Spa. 
Over twenty years and 6 properties later, these hotels, have flourished in charm, popularity and understated elegance. At the peak of the business the owners decided to have a change in their life style and the hotels changed hands in 2005.
Only Ban Kaew Villas on Koh Samui and several apartments in the Bangkok CBD remain in the Family.